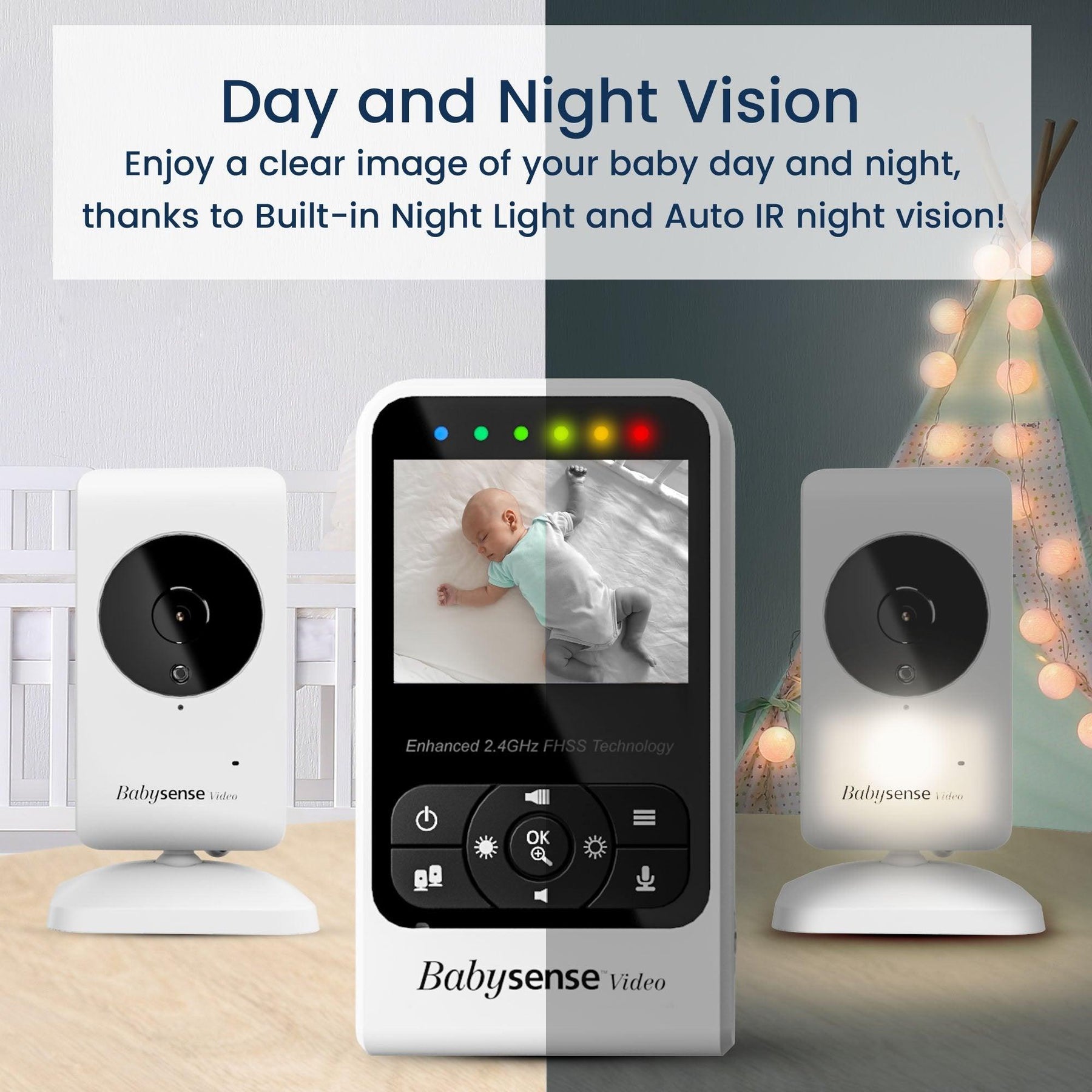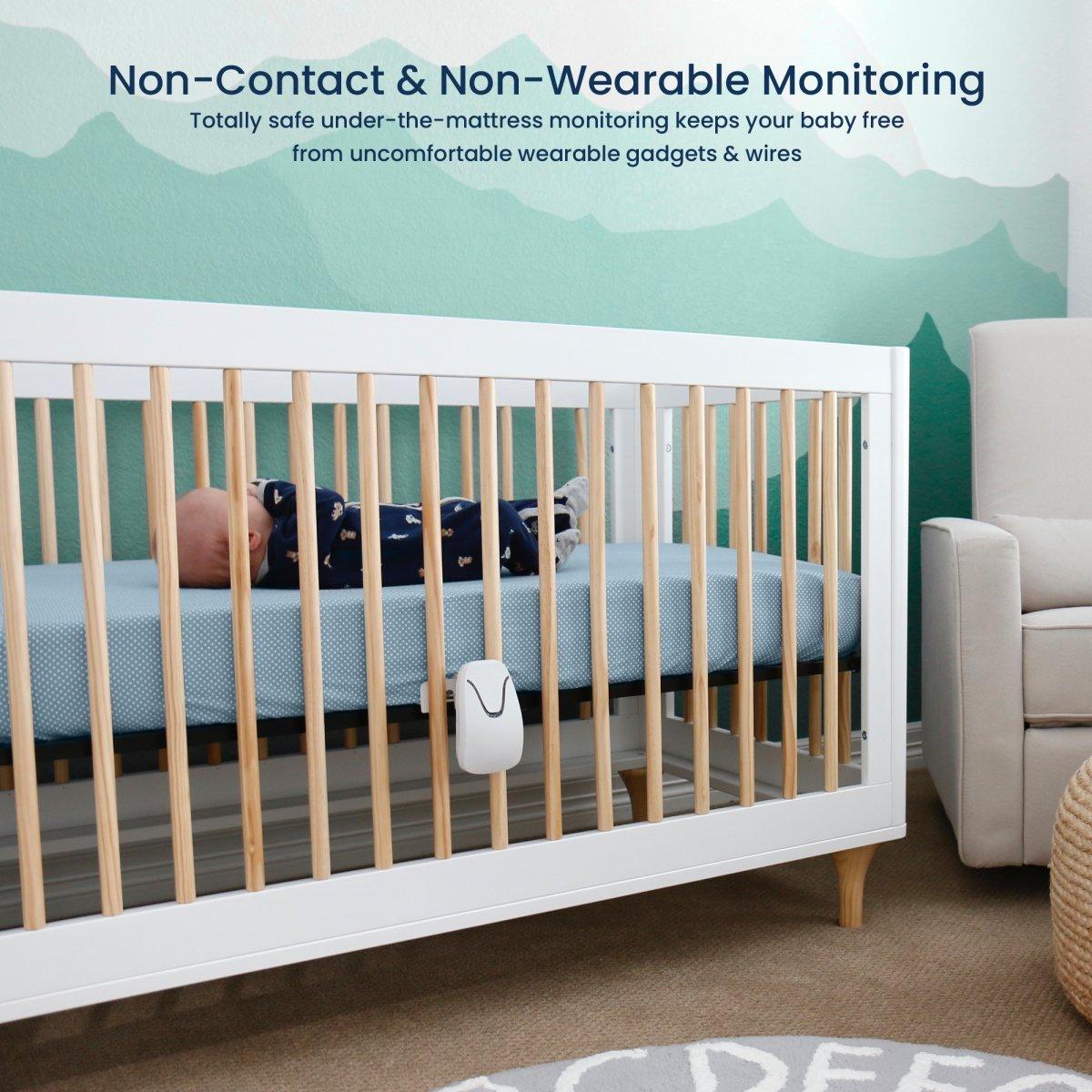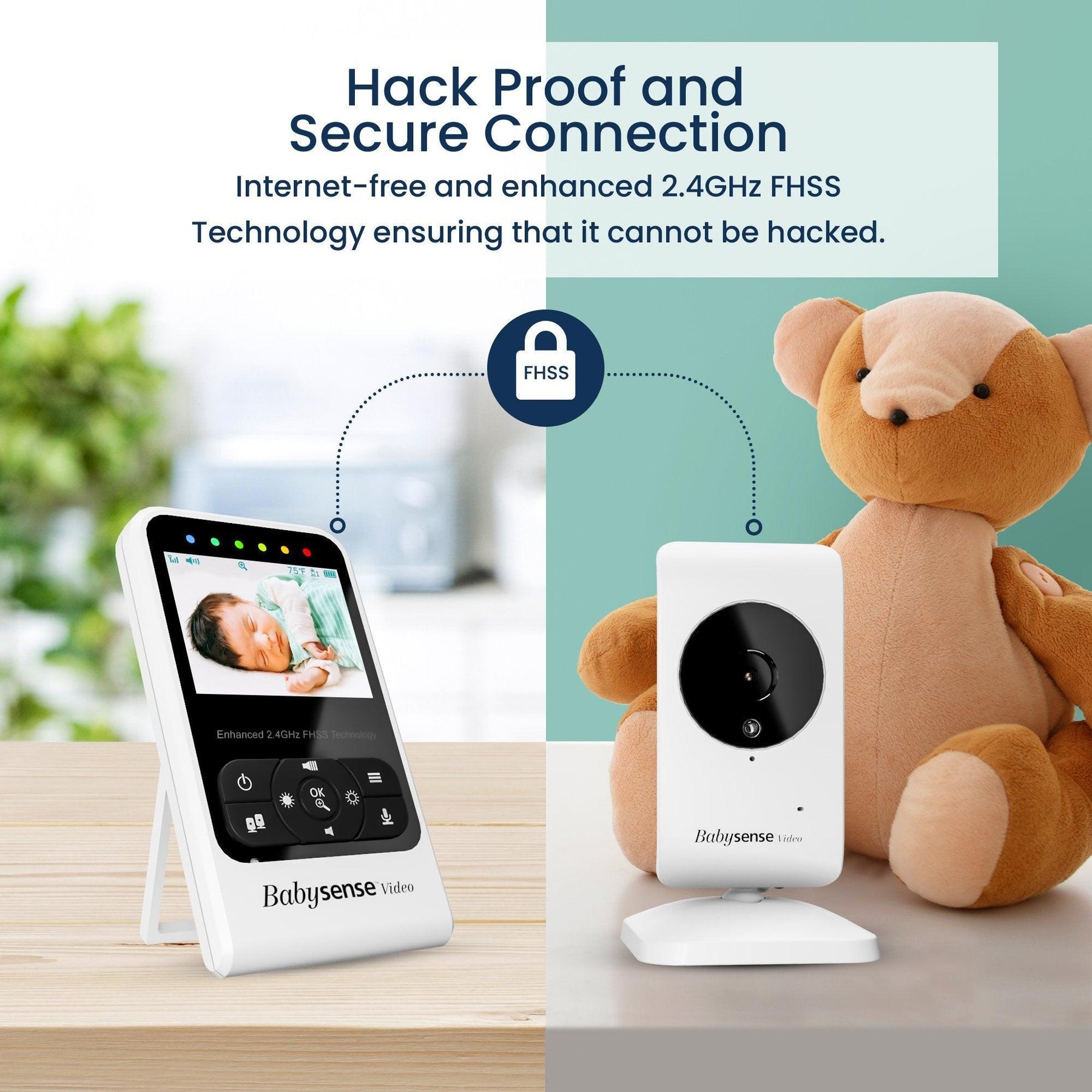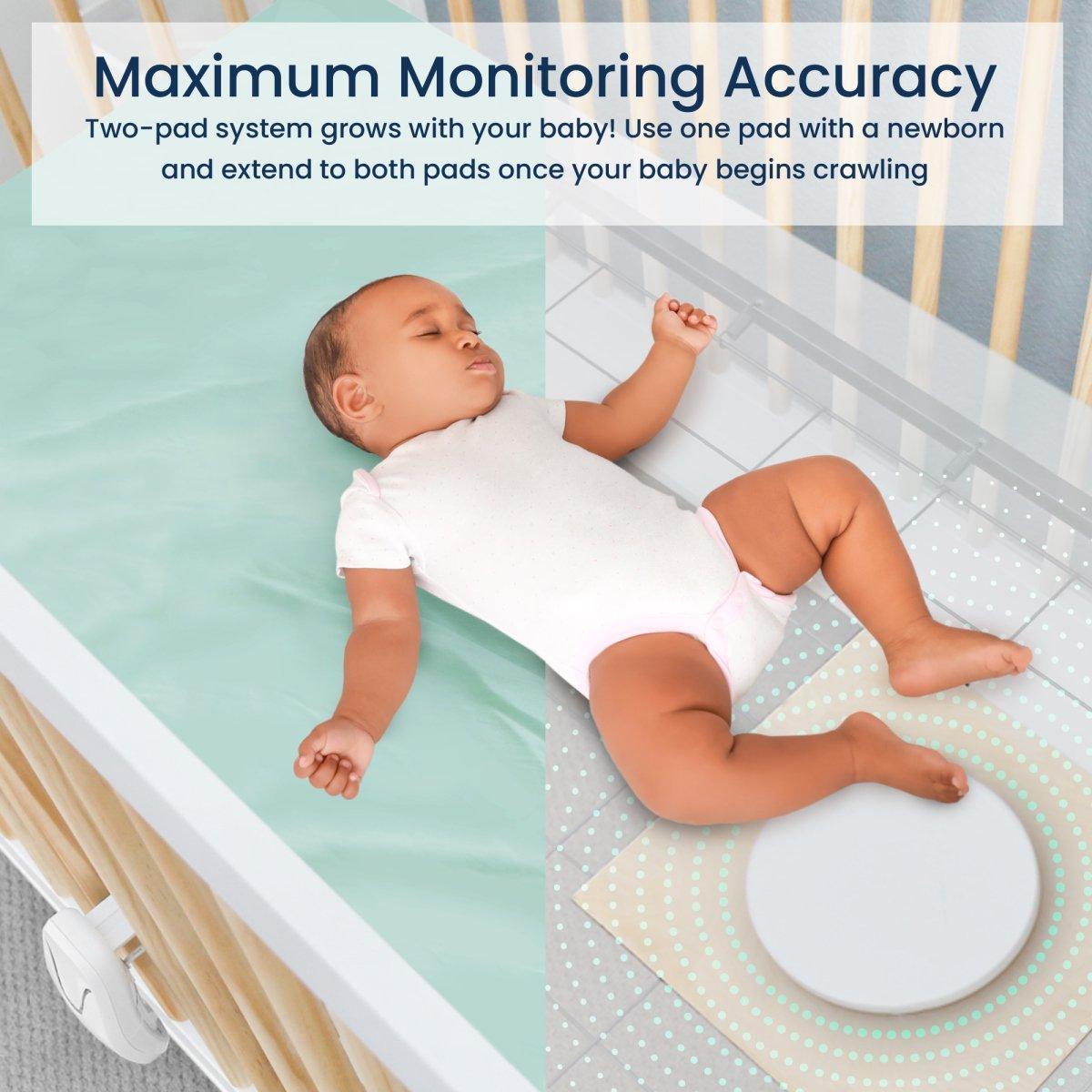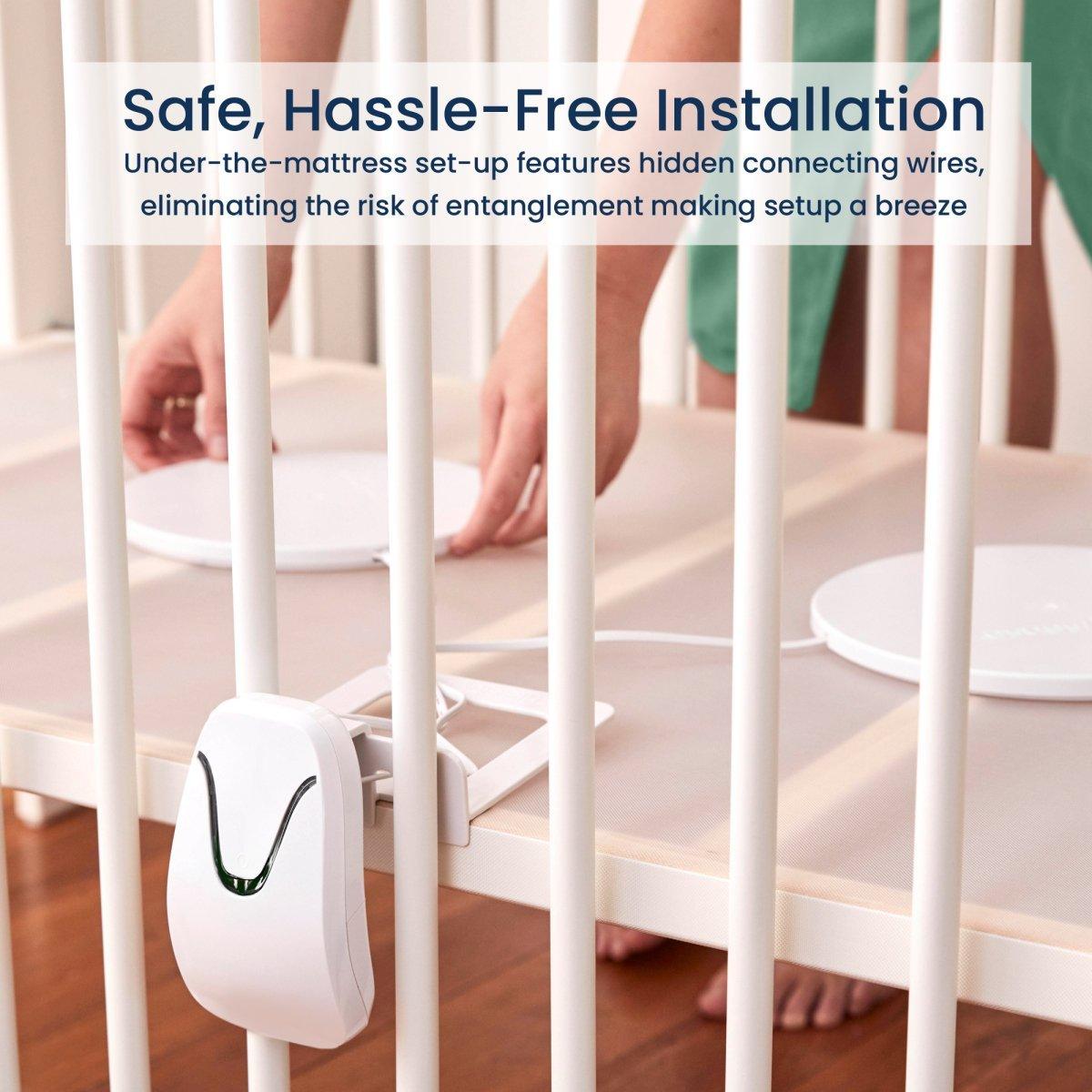 Babysense 7 Safe Sleep & Compact Video Monitor Bundle

Hack Proof and Secure Connection
Internet-free and enhanced 2.4GHz FHSS Technology ensuing that it cannot be hacked. 
Non-contact & Non-Wearable Monitoring
Totally safe under-the-mattress monitoring keeps your baby free from uncomfortable wearable gadgets & wires
Calm & Comfort Baby
Most advanced 2-way talk back function, white noise sound and built-in lullabies help comfort and calm your baby, all from your hand-held monitor without leaving your bed!
Maximum Monitoring Accuracy
Two-pad system grows with your baby! Use one pad with a newborn and extend to both pads once your baby begins crawling
90-NIGHT FREE TRIAL WITH FREE US SHIPPING
Try any of our Babysense Monitors for 90 nights risk-free to decide if it's right for you and your baby

We offer free USA shipping and returns. If you aren't happy, simply return at our expense for a full refund
Parents Love Babysense Monitors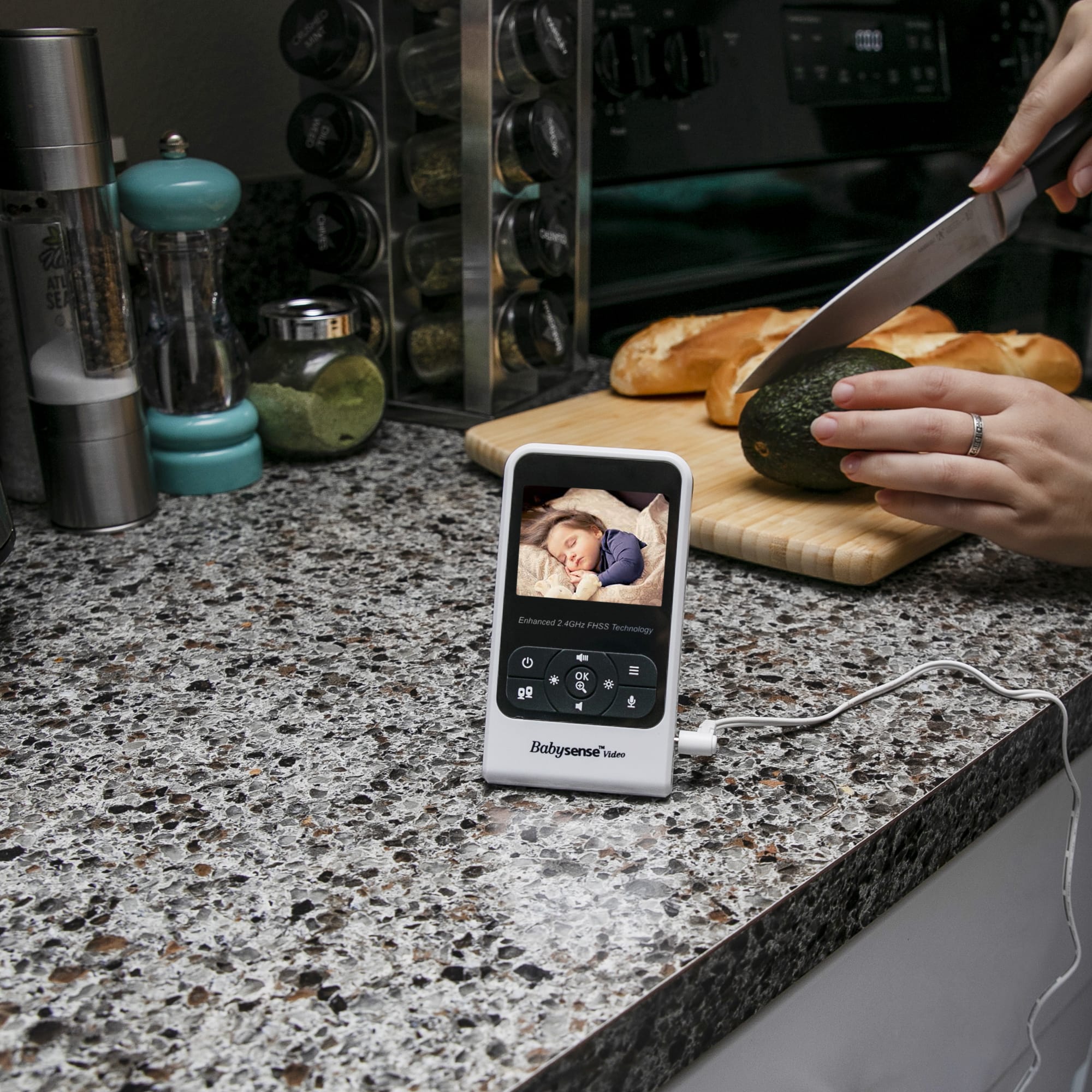 Why Babysense Safe Sleep & Compact Video Monitor Bundle
This Compact Bundle comes with the #1 industry leading movement monitor combined with our award winning V24R Video Baby Monitor.
As the brand of choice in top hospital systems in Europe and Japan and over 1 million homes, Babysense 7 is proven to provide maximum monitoring accuracy. The 2-plate design ensures full bed coverage and close monitoring of your baby's micro-movements through the mattress.
The V24R Baby Video Monitor comes equipped with a dedicated 2.4" Color LCD Display and one feature packed camera with a built-in night light. The monitor features the latest 2.4GHz FHSS Closed Loop Technology for an ultra-stable & hack-proof connection.
Additional Features - Babysense 7
Safe, Hassle-Free Installation
Under-the mattress set-up features hidden connecting wires, eliminating the risk of entanglement making setup a breeze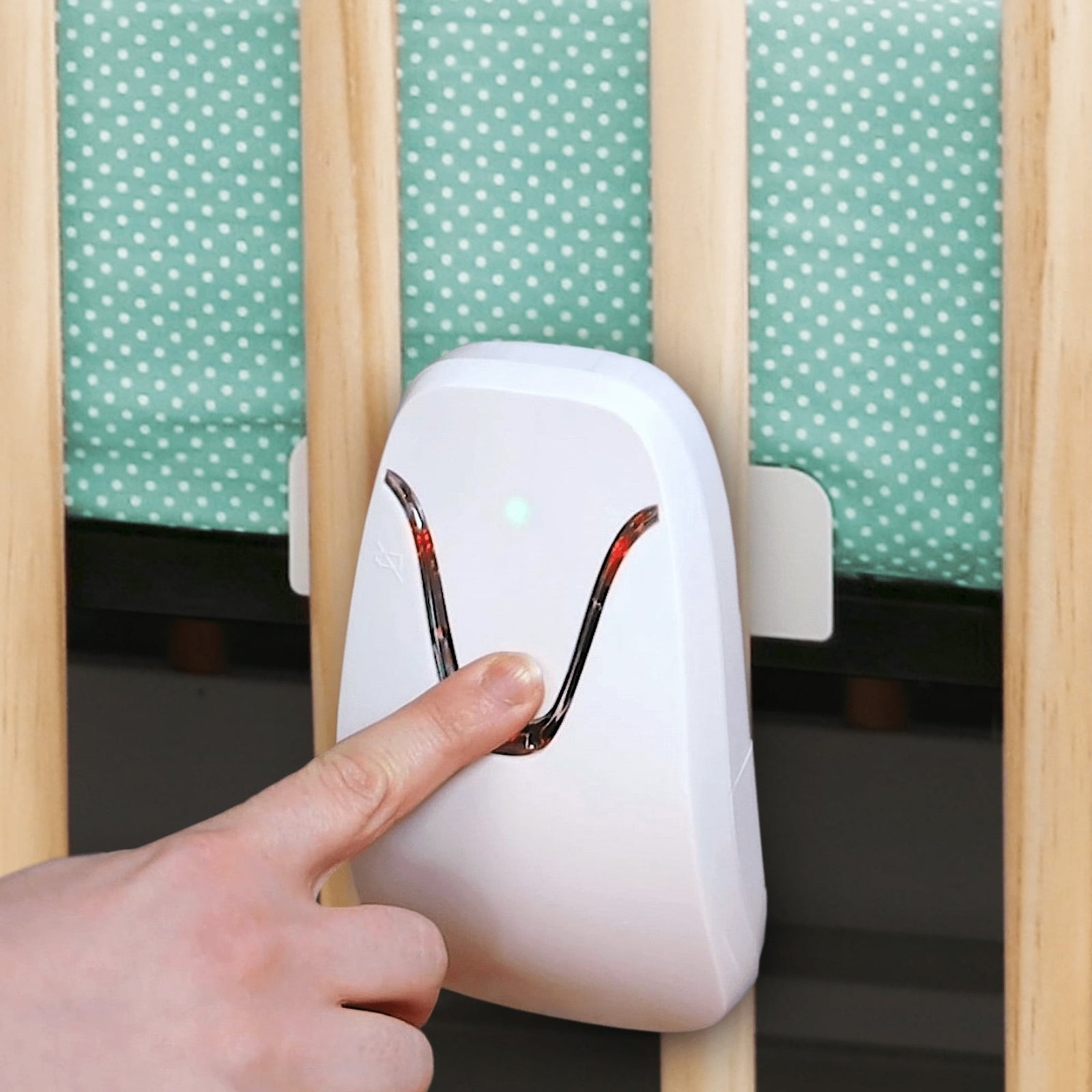 One Button Activation
Compact and easy to use design with single button operation
Battery Operated
No Wi-Fi or internet connection required, making this monitor hack-proof and stable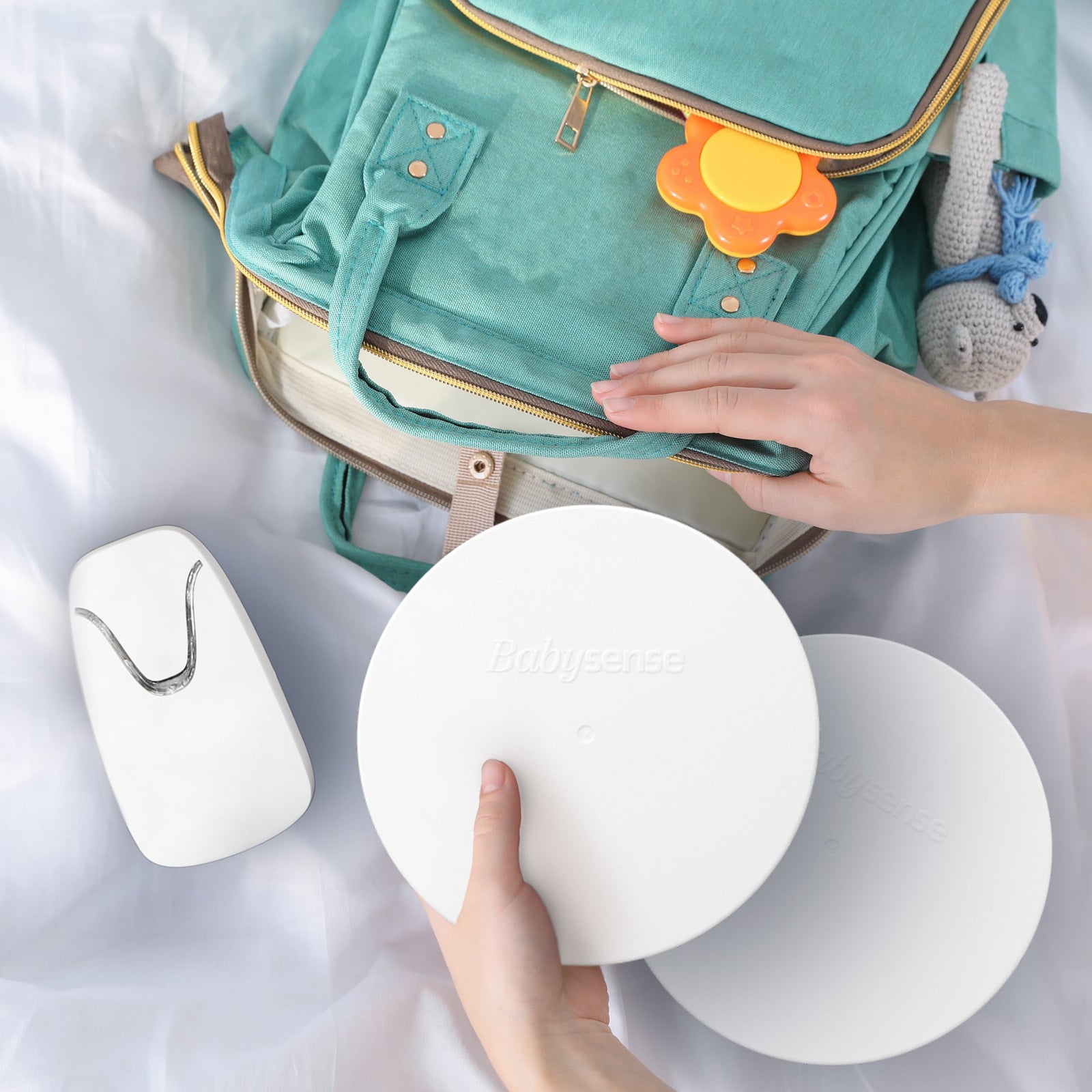 Easily Portable
Snap & go mounting system and simple set-up makes it easy to take it with on holiday or for an overnight at Granny's house
Hack-proof, no wifi or app needed

Additional Features - Video Monitor V24R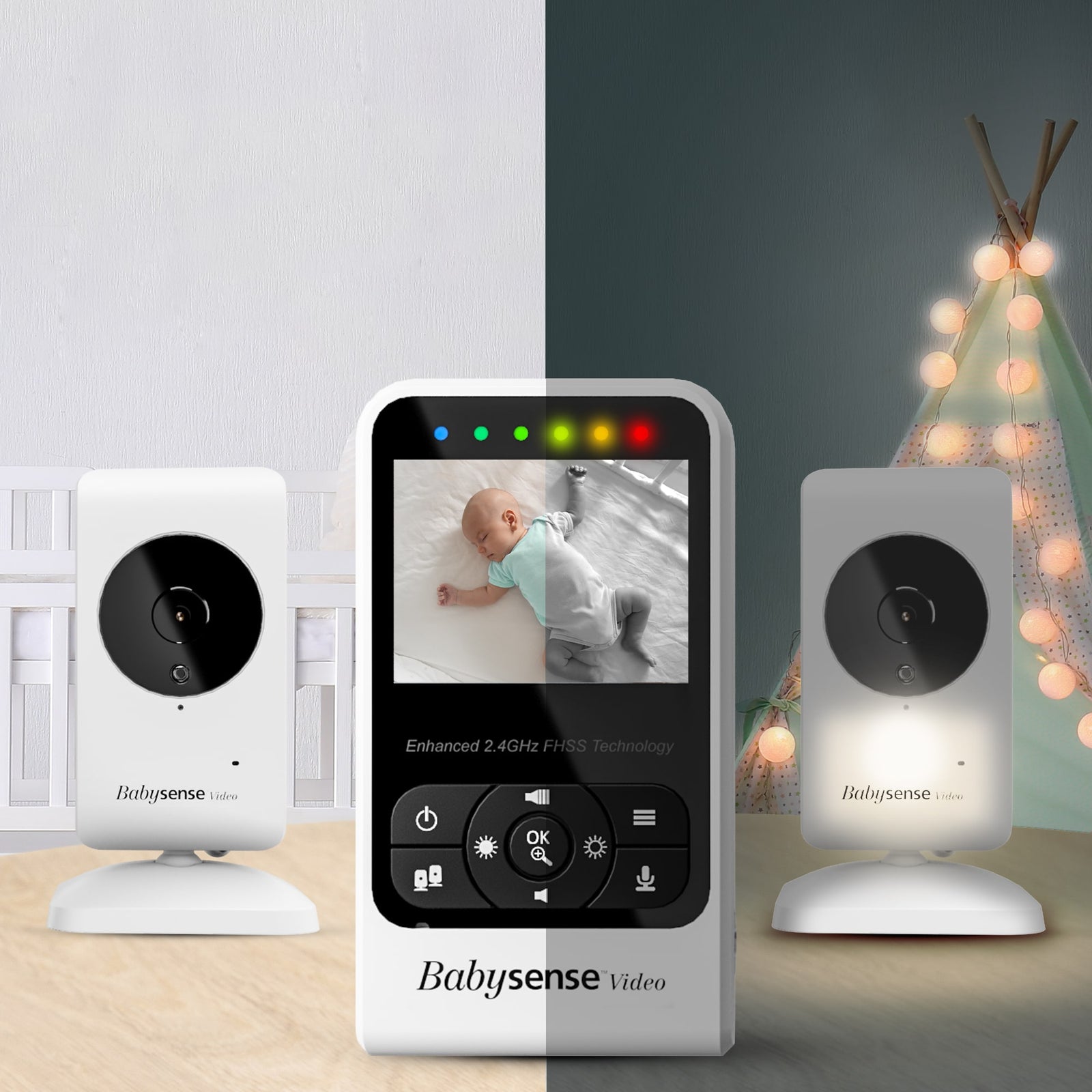 Day & Night Vision
Enjoy a clear image of your baby day and night, thanks to Auto IR night vision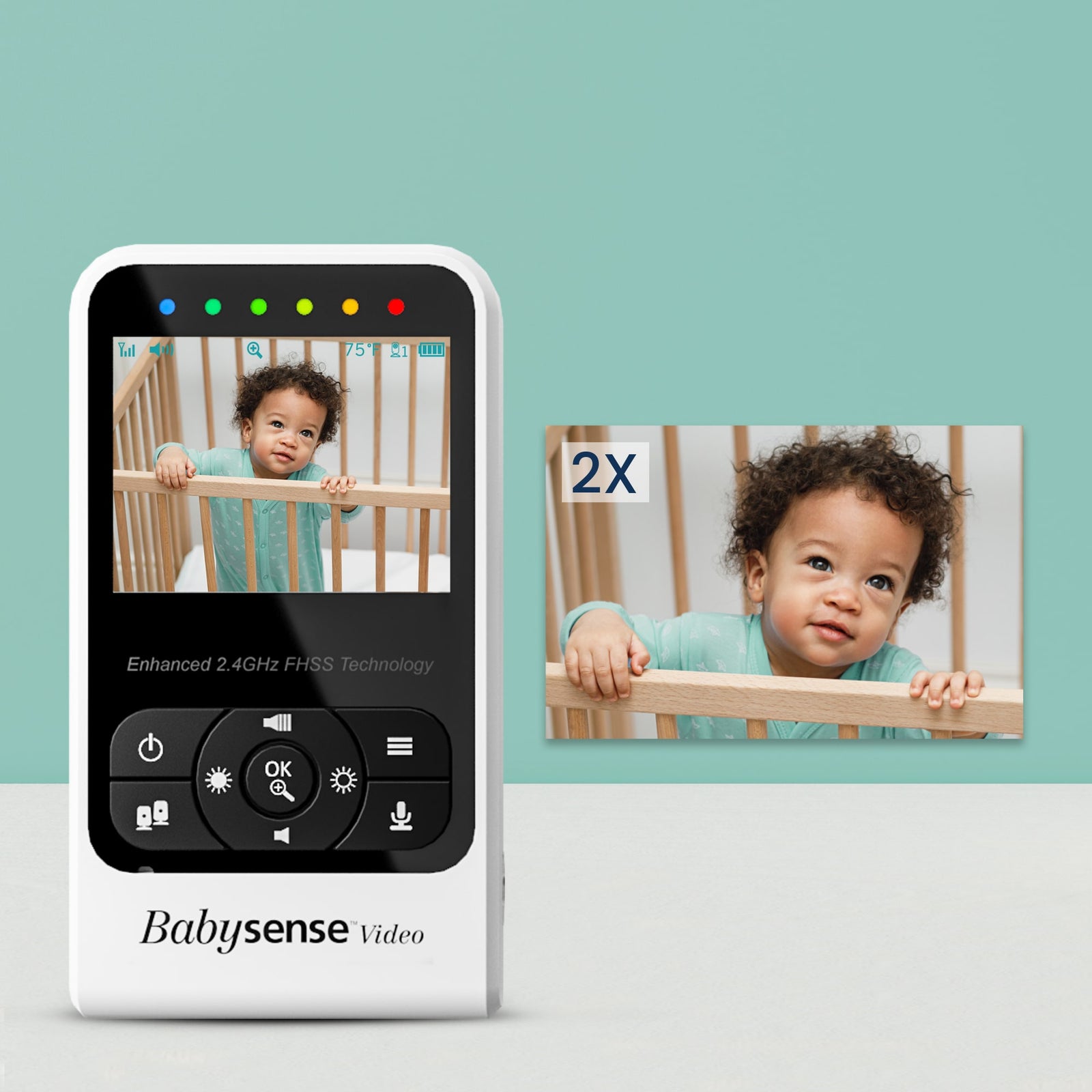 See Your Baby Up Close
Remotely control the zoom in 2x.  you will never have any doubts about your baby's activities
Connect up to 4 Cameras
See 4 different rooms, to make sure everyone is safe at all times
Long Range
The monitor enables you to maintain a secure and private connection with your baby at all times and from long range of 960 ft (in open space)
ECO mode
The monitor features an easy-to-use ECO mode that turns the screen off & on based on the sound from your baby's room, so you can sleep uninterrupted.
Instead of having to check multiple times through the night if your baby is ok and moving, you could use a movement monitor for additional peace of mind. Movement monitors use special sensors to track a baby's movement while they're sleeping and alert you if breathing stops or becomes irregularly slow, giving you critical time to react and intervene. A reliable monitor can ease your anxiety.
With an under-the-mattress monitor there is nothing to annoy or fall off your baby, and there are no cords or extra gadgets touching your baby or causing any irritation. The passive sensor system is totally safe and has no direct contact with the baby. The monitoring will take place irrespective of the baby needing to wear certain clothing or only when a camera is set-up and mounted in a specific way. Unlike wearable monitors, this option works well even after your baby is mobile.
A non-WiFi monitor is very difficult to hack as it uses frequency hopping spectrum (FHSS). Plus, non-WiFi means you'll never have to worry about finding a hotspot.
Some monitors use a WiFi connection, which becomes problematic because they rely on the quality and strength of existing networks to function properly. 
Our under-the-mattress movement monitor operates on regular AA batteries, so there are no dangerous power cords. Italso features a "Hidden Cable Installation" concept to keep the cords out of sight and reach. The passive sensor system istotally safe, emits no radiation and has no direct contact with the baby.
The 2 highly sensitive under-the-mattress movement sensor pads were specifically designed to monitor and detect yourbaby's tiny movements, through the mattress, as they sleep. If even the slightest pause in movement is detected bythe sensor pads within 20 seconds, you'll immediately be alerted via an alarm (visual and auditory) on the dedicated control unit.
The monitors are straightforward with a simple plug-and-play design.​
- The under-the-mattress non-contact movement monitor is easier in the long run than a wearable because there is nothing to attach to a squirming baby. It is a one button activation.​
- The V24R Video Monitor has an easy and intuitive menu, with simple processes to activate the various monitor and camera features.
The company was founded in 1991 and thereafter developed the world's first non-touch movement monitor for detection of movement cessation in infants, known under the trademark – Babysense.​
Over the years, Babysense company has gained extensive knowledge and expertise in developing and producing quality health monitoring solutions, which all meet the stringent regulatory requirements and needs of the global markets.​
Our core focus is babies' safety and parents' peace of mind. ​
If you feel the Babysense True Sleep is not right for you and your baby, no problem, we'll assist you with the return using our 90-day, 100% money back guarantee return policy.
- Our monitors come with a 1-year manufacturer warranty which can be extended to 18-months by registering your warranty online.
- We offer email and telephonic support to answer any questions you may have.
- If you feel the monitor isn't right for you, we have a 90-day money back guarantee return policy.
We are always available for our customers. Please contact us directly by sending an email to support@babysensemonitors.com or you can call us at (833) 568-2229 and we will be happy to assist​.
Babysense 7 - Inside the box:
• Control Unit, 
• 2x Sensor Pads, 
• Control Unit Holder, 
• Hanging Hook, 
• User Manual
Video Monitor V24R - Inside the box:
• 2.4″ Display,
• Camera Unit with built-in Nightlight, 
• 2x power adapters, 
• Wall mounting screw set, 
• Li-ion Battery (installed in Parent Unit), 
• User Manual
Video Monitor V24r:
Model: V24R
LCD Screen: 2.4" TFT LCD LCD
Pre-installed Battery: 950mAh
Power Adapter:   Input: 240-100VAC 50/60 Hz, 200mA Max
Output: 5V, 700mA
Babysense 7 Movement Monitor:
Model: BS7
Sensor Size:
Recommended Age: 0-1 year old
Intended Use: Baby Movement Monitoring
Video Monitor V24R:
Length: 3"
Height: 6.5"
Width: 5.7"
Shipping weight: 1lb
Babysense 7 Movement Monitor:
Length: 3.7"
Height: 9.61"
Width: 8.9"
Shipping weight: 2.25lb