Babysense HD Dual - Baby Monitor with WiFi, and Separate Non-WiFi Camera
This HD Dual monitoring solution consists of:
WiFi 1080P Camera (controlled via app) for remote monitoring
Pan-Tilt-Zoom camera and a dedicated 5" HD 720P display for at-home monitoring
Please note: WiFi and non-WiFi monitors are not inter-connected. The non-WiFi monitor won't connect to the App and the WiFi Camera won't connect to the supplied display unit.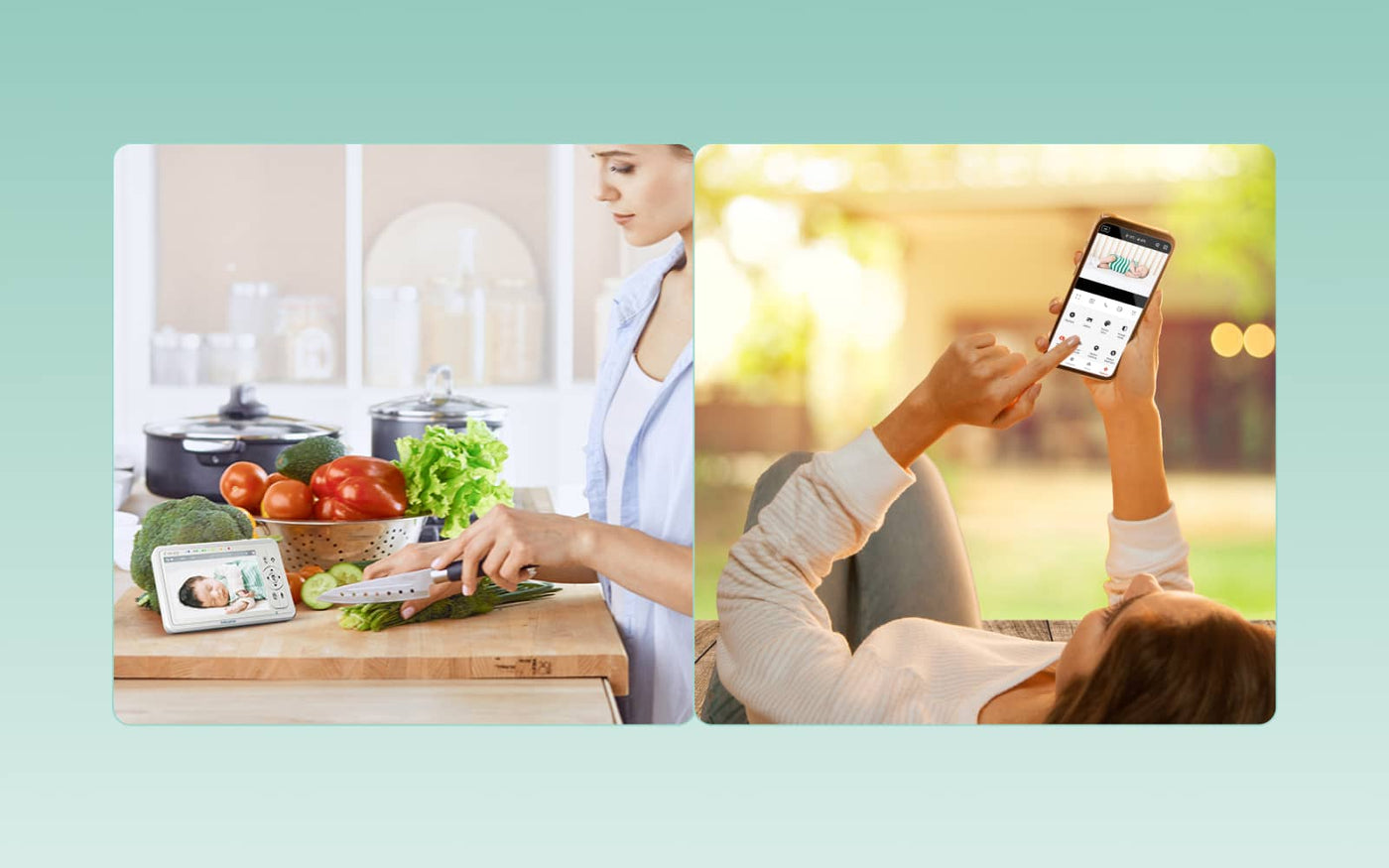 Best Baby Monitor with WiFi & Camera
Better Coverage & Range
Use your point-to-point baby monitor in normal in-house environments and keep your smartphone for catching up on your social life or work.
Use your WiFi baby monitor for outdoor places (yard or pool area) or locations with a weak direct signal. This way, you get a more reliable and versatile system to monitor your baby.
Babysense HD Dual: Ultimate Baby Monitor with Camera for Modern Parents
Multi-Child Households
If you have multiple children in your household, having both types of monitors can be especially useful.
You can use a point-to-point monitor in one room for an infant, while using a WiFi monitor to keep an eye on an older child in another room.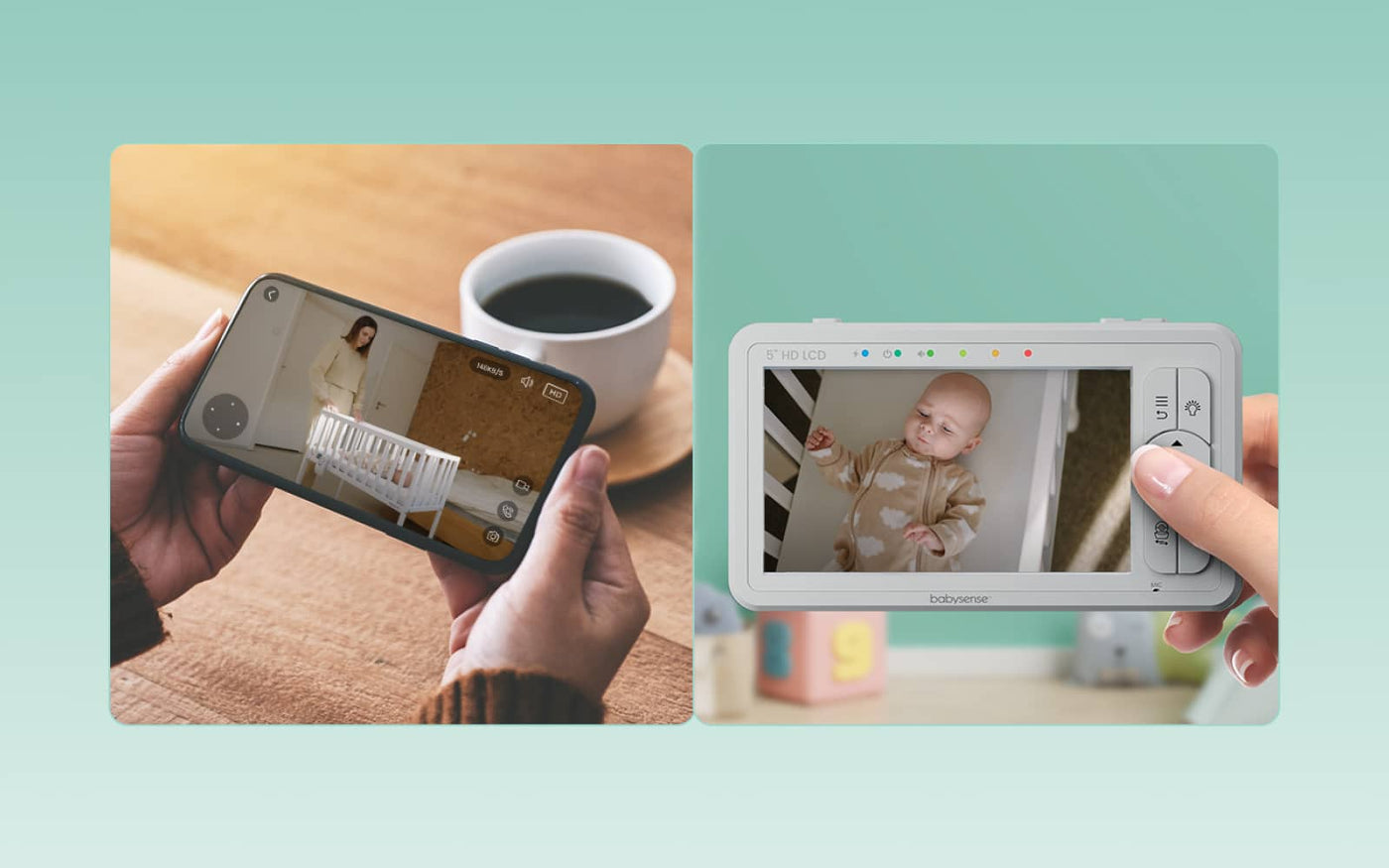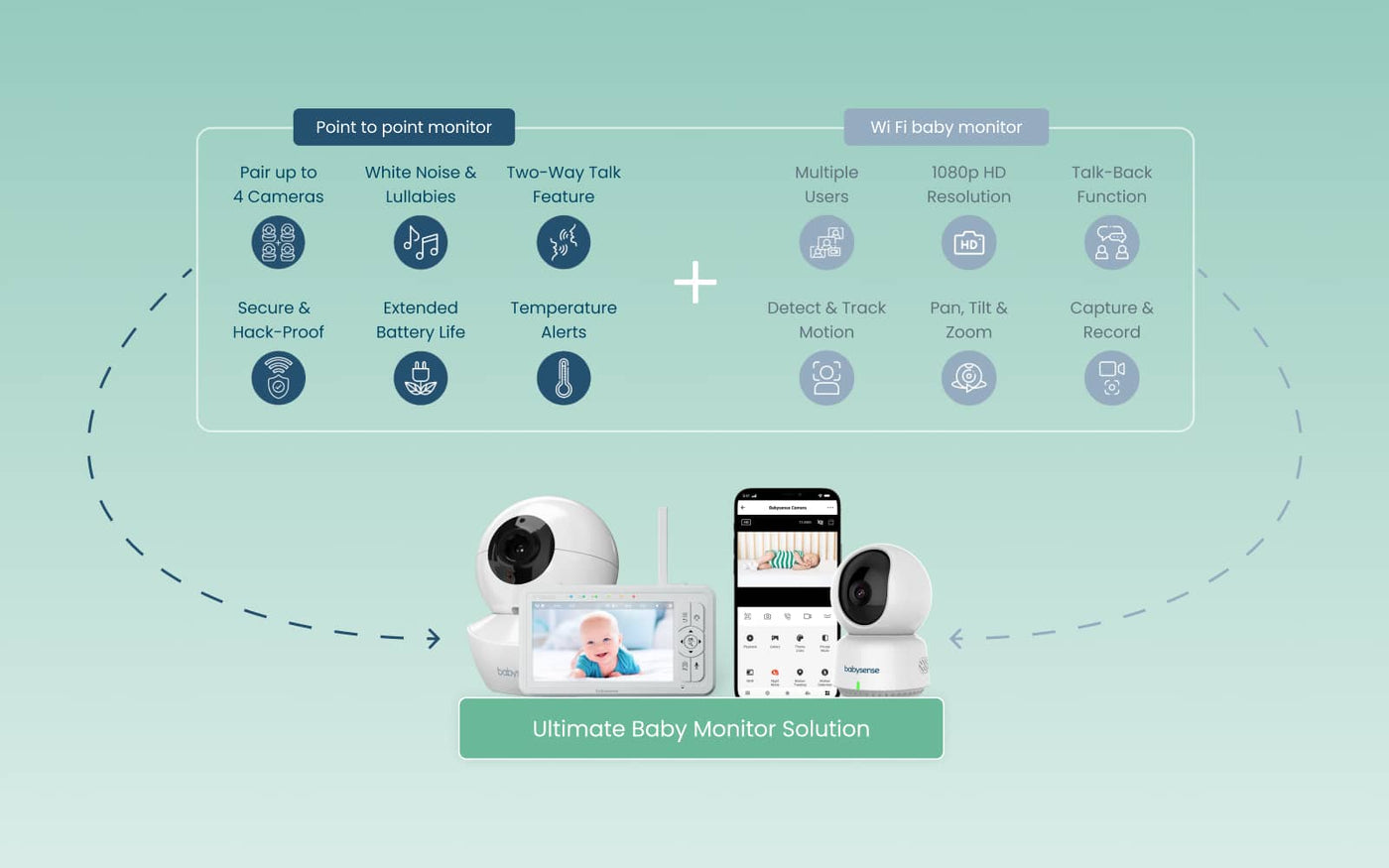 Different Views
Monitor different areas of the nursery simultaneously. You can set up the point-to-point monitor to watch over your sleeping baby, while the WiFi monitor can provide a wider view of the entire room.
You can even check in on the nanny while she is checking on the baby. 
Diverse Features
Each type of monitor has unique features that the other does not offer.
Both types of monitors complement each other and provide access to a wider range of features and functionalities.
Parents Love Babysense Dual Monitor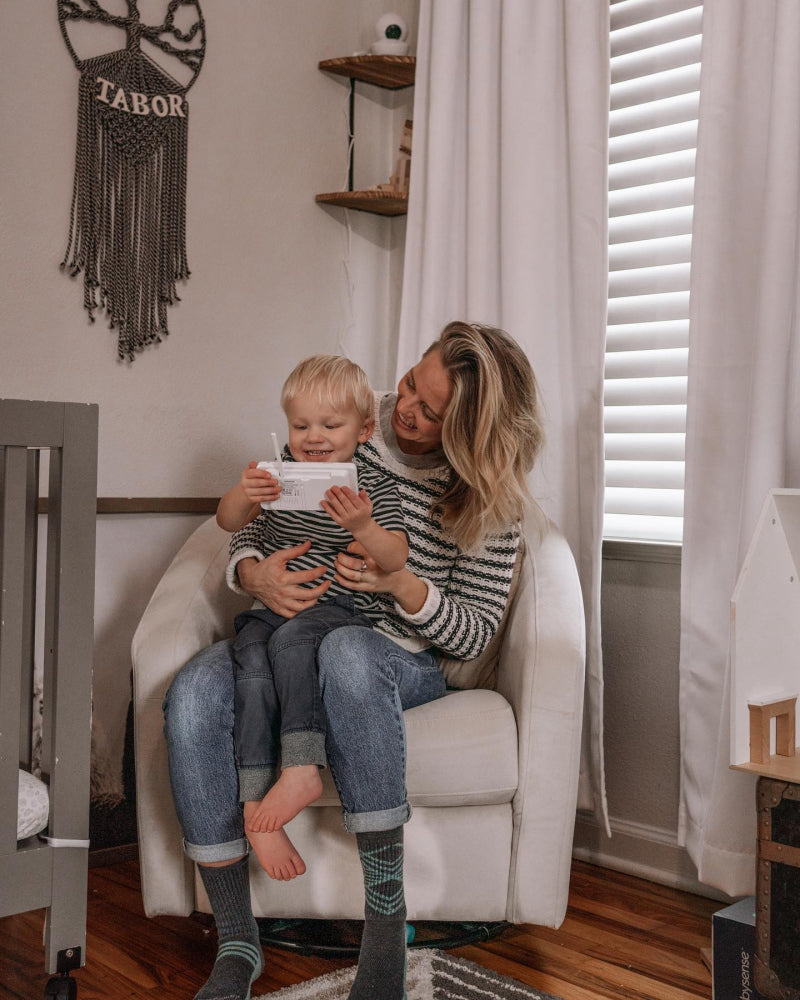 90-NIGHT FREE TRIAL WITH FREE US SHIPPING
Try any of our Babysense Monitors for 90 nights risk-free to decide if it's right for you and your baby

We offer free USA shipping and returns. If you aren't happy, simply return at our expense for a full refund
Point-To-Point Baby Monitor Features
Split-Screen Display
Get a second at-home camera and keep an eye on two rooms or two babies simultaneously, side by side on the same screen in real time. The 5" HD display is large enough to view your children with crisp, crystal-clear images, day and night, ensuring that you see every detail.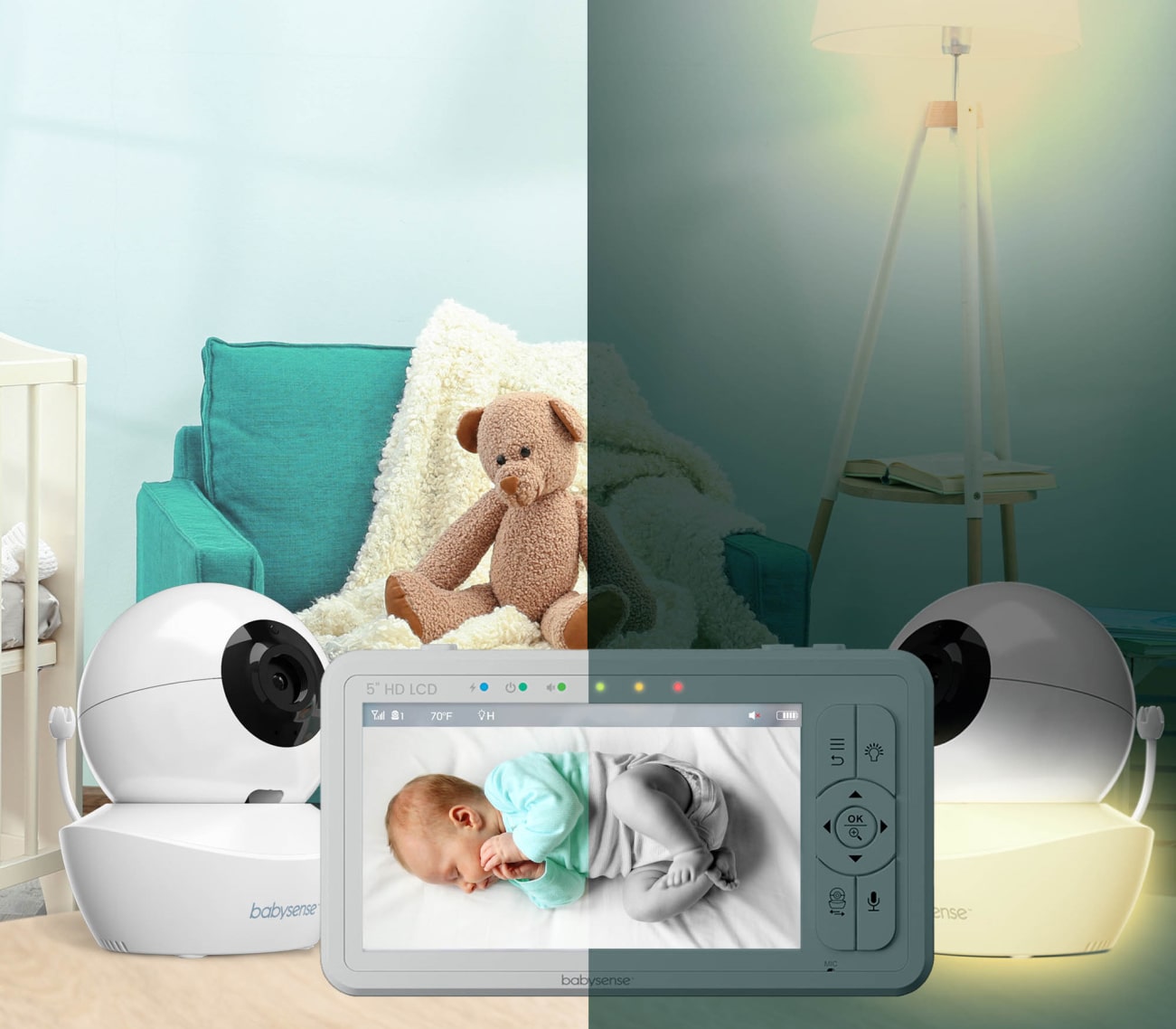 Day and Night Vision
Enjoy a clear image of your baby day and night, thanks to Auto IR Night Vision and Adjustable Ambient Night Light with 3 intensity levels.
Connect up to 4 cameras
See 4 different rooms, to make sure everyone is safe at all times.
The monitor is supplied with 1 at-home camera (additional cameras are available for purchase).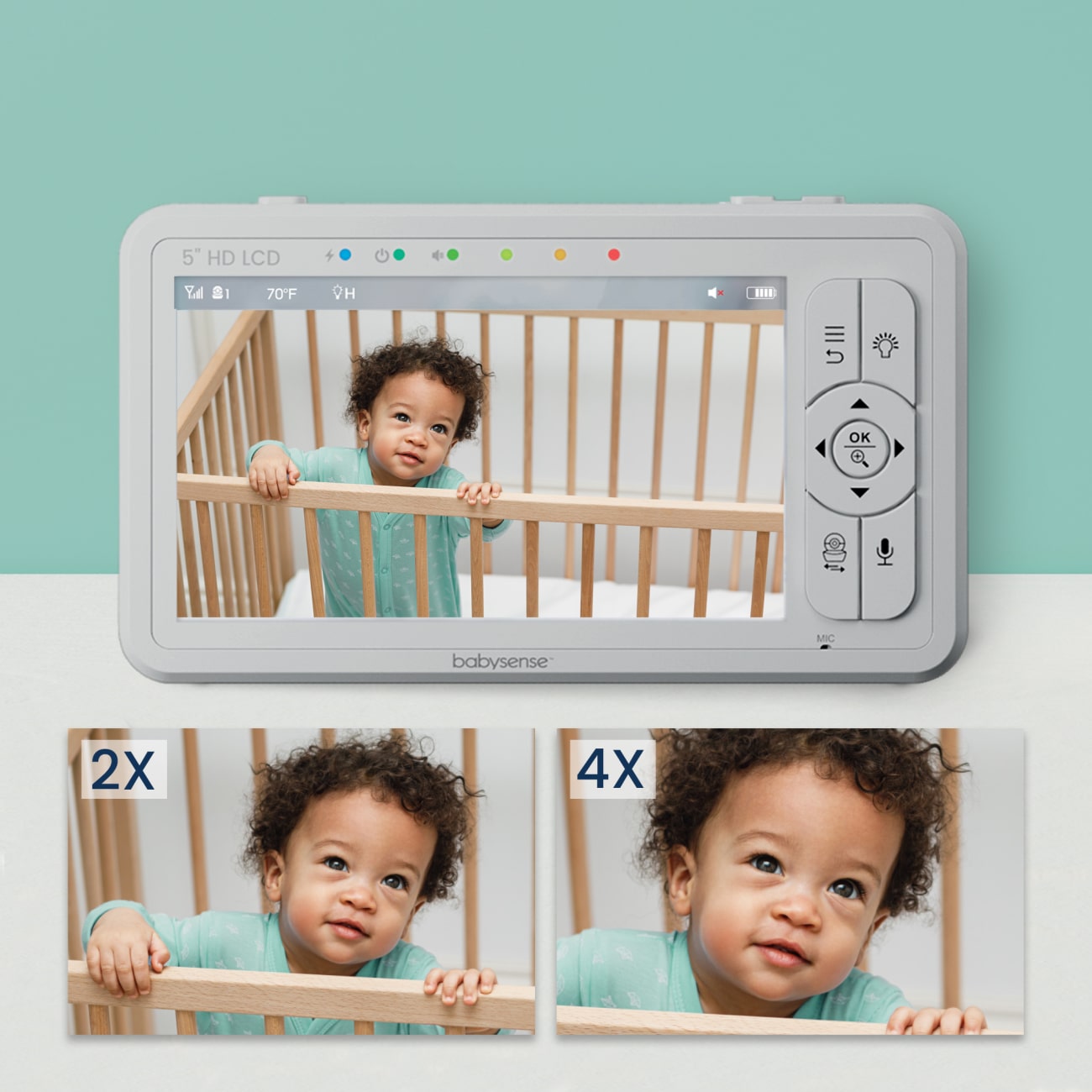 See your baby up close
Remotely control the zoom function. Get a closer view of a cute cheek, nose, or face close-up by remotely controlling the camera to zoom in 2X/4X.
Long Battery Life & ECO Mode
Extended Battery Life: lasts for up to 20 hrs in ECO mode and up to 12 hrs in Regular Mode with a large 4000mAh rechargeable battery.
Rich Advanced Features
Transform your phone into a smart baby monitor with rich advanced features, providing everything you need to monitor your baby on the go.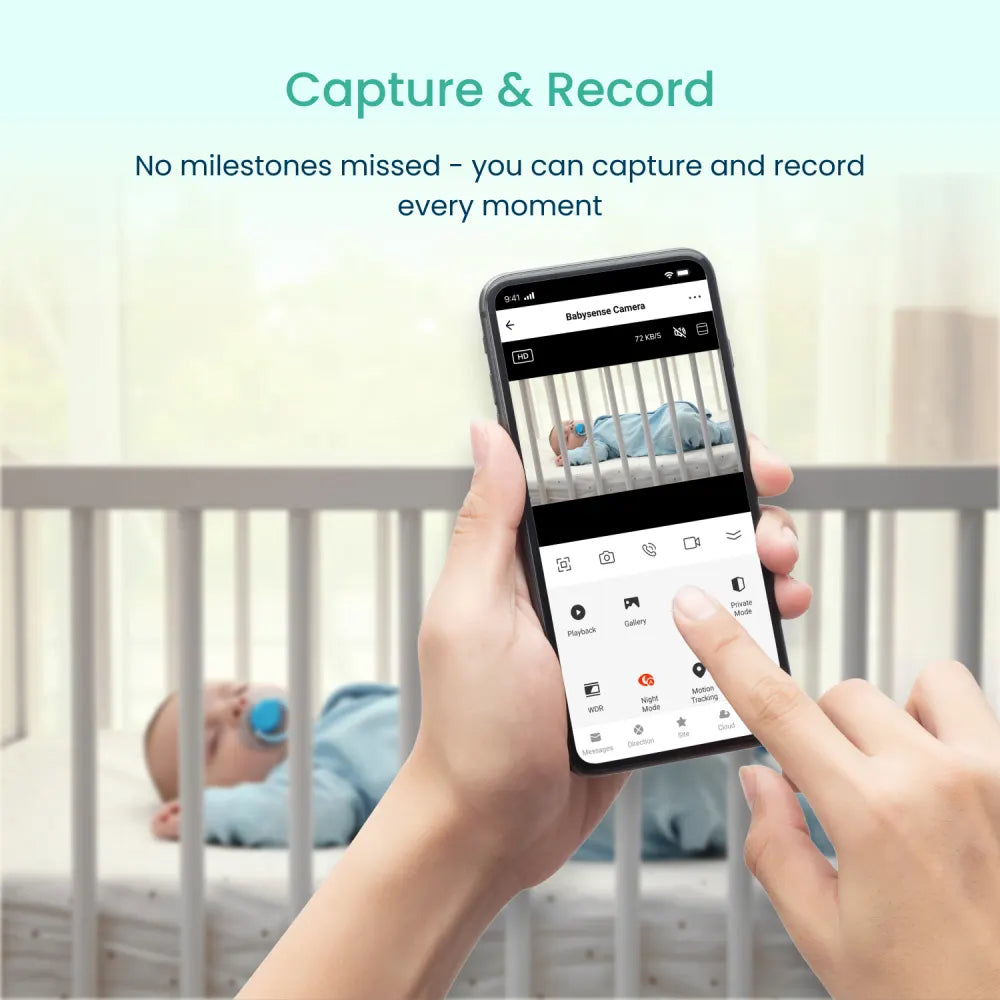 Capture & Record
No milestones missed, you can capture and record every moment.
SD Card is supplied with the camera.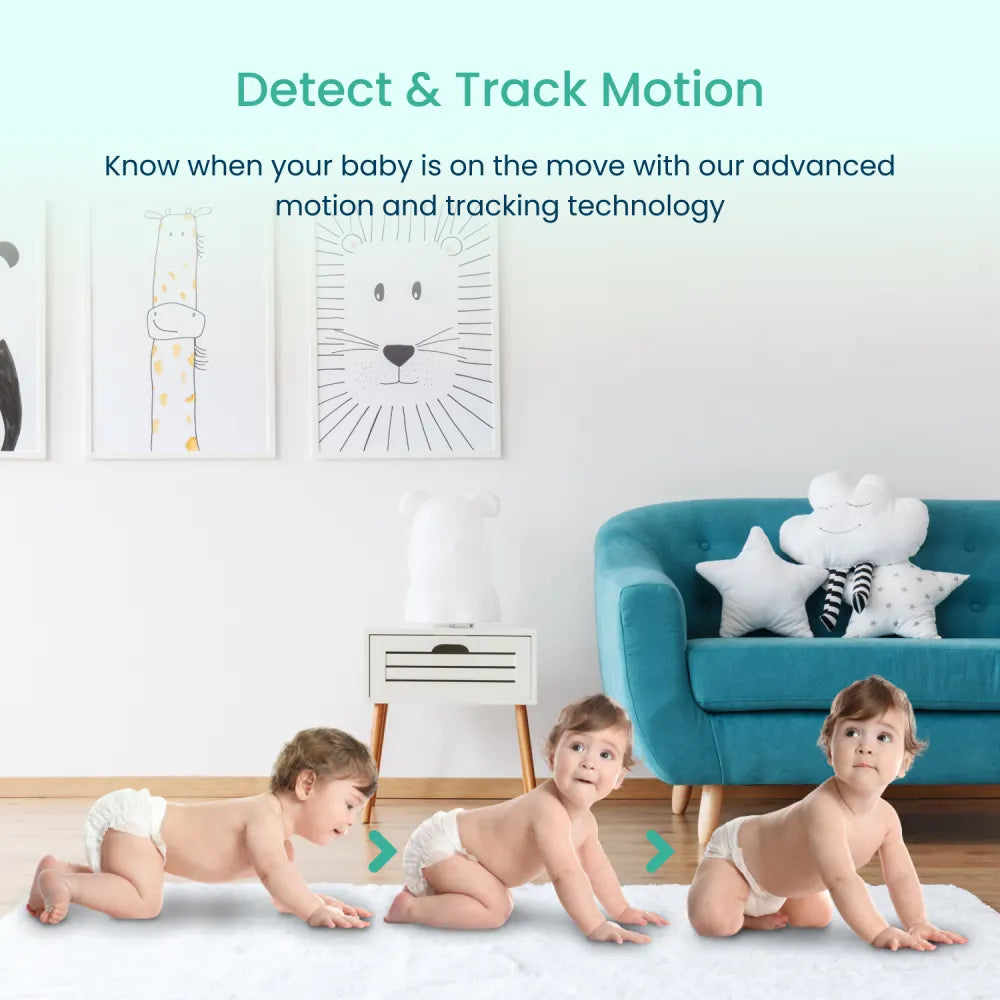 Detect & Track Motion
Know when your baby is on the move with our advanced motion and tracking technology. Notifications will be sent to your phone immediately once motion is detected.
Multiple-Users
Multiple-Users simultaneous viewings – no limit on how many family members and friends can share in the good times.
Safe & Secure Streaming
Our Camera streams secure, encrypted data only to those you choose, so you know your little one is safe.
MONITOR FROM ANYWHERE - Our Babysense HD Dual Solution includes: a WiFi 1080P Camera (controlled via app) for remote monitoring and 2 Pan-Tilt-Zoom cameras & a dedicated 5" HD 720P display for at-home monitoring. This allows you to check on your kids, pets and other family members whether you're at work or in the kitchen or even if your family members are living outside of your home.
The monitors are straightforward and user friendly.
- The at-home monitor is plug&play and has an easy and intuitive menu, with simple processes to activate the various high-end features.
- The remote monitor has an easy and user-friendly app, allowing you to control all the rich features offered. The system provides live remote access from your iOS or Andriod smartphone or tablet at no fees or monthly subscriptions.
The company was founded in 1991 and thereafter developed the world's first non-touch movement monitor for detection of movement cessation in infants, known under the trademark – Babysense.​
Over the years, Babysense company has gained extensive knowledge and expertise in developing and producing quality health monitoring solutions, which all meet the stringent regulatory requirements and needs of the global markets.​
Our core focus is babies' safety and parents' peace of mind. ​
If you feel the Babysense True Sleep is not right for you and your baby, no problem, we'll assist you with the return using our 90-day, 100% money back guarantee return policy.
- Our monitors come with a 1-year manufacturer warranty which can be extended to 18-months by registering your warranty online.
- We offer email and telephonic support to answer any questions you may have.
- If you feel the monitor isn't right for you, we have a 90-day money back guarantee return policy.
We are always available for our customers. Please contact us directly by sending an email to support@babysensemonitors.com or you can call us at (833) 568-2229 and we will be happy to assist​.
Wifi Camera Babysense SEE - For Remote Monitoring:
• WiFi Camera
• USB Cable
• AC Adaptor
• Wall Mounting Screw Set
• Position Paper
• User Manual
Video Monitor HD S2 - For Local Monitoring:
• SPLIT SCREEN 5″ Display
• HD Pan-Tilt-Zoom Camera 
• 2x power adapters 
• Wall mounting screw set 
• Li-ion Battery (installed in Parent Unit) 
• User Manual
Video Monitor HD S2:
Model: HD S2
LCD Screen: 5" TFT LCD LCD Screen (1280*720 pixels)
Pre-installed Battery: 4000mAh
Power Adapter:   Input: 240-100VAC 50/60 Hz, 200mA Max
Output: 5V, 1.0A
WiFi Camera Babysense SEE:
Model: IP206
Frequency: 2.4GHz WiFi
Input Voltage: 5v, 1.0A
Power Adapter:   Input: 240-100VAC 50/60 Hz, 200mA Max
Output: 5V, 1.0A
Video Monitor HD S2:
Length: 3.9"
Height: 10.9"
Width: 6.6"
Shipping weight: 2.2lb
WiFi Camera Babysense SEE:
Length: 4.25"
Height: 4.65"
Width: 6.25"
Shipping weight: 0.83lb
WiFi Camera Babysense SEE